Currently, Lollibean is the blog of a 19 year old book lover, fairy dust believer and dream chaser. I blog about the things I love, books, movies, music, rants and ramblings, my thoughts and my life.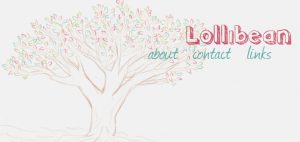 Lollibean.net was purchased on Friday the 27th of November 2009. For a while I've been in search of the domain that felt right for me. I came across one of my favourite artist's nickname: marleybean and I instantly fell in love with it but I couldn't use her name for my domain. So I thought what are two candies I love (they always sound lovely)? Lollipops and Jellybeans! How awesome it would be if they made a mixture of both candies and call it: Lollibeans. Aha right there! It was like a spontaneous explosion; I found the perfect domain name.
The site became hosted by Kya on December 4th 2009 and up until May 2012, the site included my art portfolio and visitor resources such as textures. After moving to a new host, Misaki on May 18th 2012, I changed the site completely by removing all visitor content, changing the layout and focusing solely on blogging. After being introduced to book blogs, I became inspired to write more about books and media, my blogs are now greatly influenced by this book blogging community.