This is a tag going around the youtube book community created by booktuber BookishlyMalyza, the video can be found here. I've been continuously watching videos featuring the 7 Deadly Sins of Reading Tag, they're very enjoyable to watch and I am not ashamed to admit I have been addicted to searching for new videos of this tag.I still want to do this tag though I do not make videos, that's how I roll. So onwards to the tag!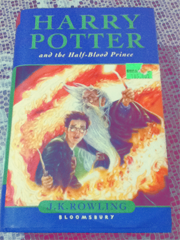 GREED What is your most expensive book? What is your least expensive book?
Harry Potter and the Half Blood Prince
My most expensive book is Harry Potter and the Half Blood Prince by J.K Rowling. I remember my mom waiting in line at the bookstore the day it came out, it was so overpriced but absolutely worth it. It was $185 TTD, approximately $29.00 USD. I devoured this book in days. It still has that ugly price sticker on it. ><
The Fruit of My Lipstick
My least expensive book is The Fruit of My Lipstick by Shelley Adina. I got this for free from the owner of a local used bookstore as I was always buying books and it was Christmas time I think. It was a nice, quick read. 🙂
WRATH—What author do you have a love/hate relationship with?
This is quite recent as I am currently reading the Lord of the Rings series. Yes, I have a love/hate relationship with J.R.R Tolkien. Brilliant author but the pacing of The Fellowship of the Ring is slow in the beginning so I end up getting distracted and putting it down. I am really enjoying the story but it's a slow read for me.
GLUTTONY—What book have you deliciously devoured over and over with no shame whatsoever?
Harry Potter and the Philosopher's Stone and Once and Always
I can say with pride that I've read Harry Potter and the Philosopher's Stone so many times. I would always try to reread the series but never complete it so I would restart reading the series from the beginning every year. The other book, I am a little embarrassed but I've reread it so much times I had to mention it. Once and Always by Judith McNaught, I loved this book, I realize there are terrible moments and many times I should facepalm but it's probably still my favourite adult romance or at the very least, my most read. It's my guilty pleasure. 😛
SLOTH—What book have you neglected reading due to laziness?
Pride and Prejudice
There are many books on my shelf that I've neglected but Pride and Prejudice takes the cake. A few years ago I fell in love with cover, I knew it was a good book and I did attempt reading it a few times but always put it back on that dusty, old shelf. I will read it in June. I must, the poor unread thing. Reading classics, for me, is like trying to overcome a language barrier. :sweat:
PRIDE—What book do you most talk about in order to sound like a very intellectual reader?
I rarely talk about books, when I do it's fangirlish, i.e. it's just too much to keep in, I'm so wholly invested in a book that speaking intelligently just does not happen. It's more like "ALL MY FEELS!" However, when I did Literature in high school, I did enjoy discussing To Kill a Mockingbird by Harper Lee. :lovestruck:
LUST—What attributes do you find most attractive in male or female characters?
This depends on the genre of book I'm reading but generally for females, I love strong, intelligent characters or even if they're a bit cold. I really liked Tris from Divergent. For males, this varies but right now I'm very attracted to quirky, funny, guys. I loved Isaac from The Fault in Our Stars. In contemporary YA, I like the funny, odd characters whereas in fantasy/action I like badass, determined and loyal characters.
ENVY—What books would you most like to receive as a gift?
The Ultimate Hitchhiker's Guide for the Galaxy by Douglas Adams. I WANT THIS BOOK SO BADLY. My local bookstores don't have it and I can't order from book depository just yet. But anything on my very long wishlist will make me very happy.